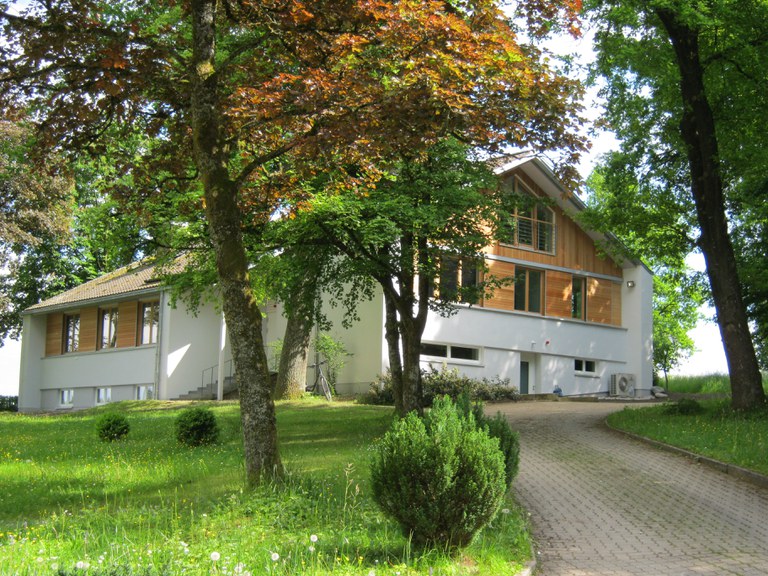 Geomagnetism
It is the Munich Earth Observatory's responsibility to continuously measure the Earth's magnetic field at its location in Fuerstenfeldbruck, far away from the busy city of Munich and other industrial areas, where artificial magnetic fields would interfere the measurements. The geological subsurface at Fuerstenfeldbruck makes the location ideal to measure the magnetic main field that originates from the Earth's core. Measurements were started in 1939 and are a continuation of the measurements in Maisach (1927 - 1932) and Munich (1840 - 1926). This allows the Munich Earth Observatory to continue one of the oldest and most precious time series in geomagnetism.
Our observatory's mission is:
to reliably track the changes of the Earth's magnetic field with absolute accuracy and highest temporal resolution by means of the most advanced instruments and techniques available,
to conduct research on the observatory's and others' geomagnetic field data and to attract external funding for these studies,
to make available its expertise in geomagnetic field measurements to others in the form of international scientific co-operations, public outreach, and university education.


Seismology
The seismological branch of the Munich Earth Observatory (MEO) with its seismic stations Fürstenfeldbruck (FUR) and Wettzell (WET) observes the world wide earthquake activity and is part of the German Regional Seismic Network (GRSN). In addition, the MEO forms the data and analysis center for the BayernNetz, a network of 21 digital seismic stations designed for monitoring the seismic activity in Bavaria and neighboring areas (http://www.erdbeben-in-bayern.de).The data catalogue (phase arrivals, source parameters) of the MEO is send to the Federal Institute of Geosciences and Natural Resources (BGR) for publishing two yearly bulletins "Erdbeben in Deutschland" and "Data catalogue of earthquakes in Germany and adjacent areas".
---